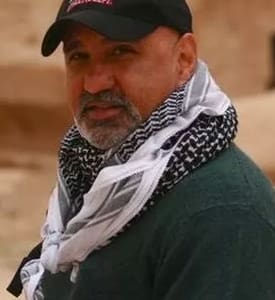 Rumi Contractor
"Rumi & Israel first met when Rumi moved to Brazil from London in 1997. He was the only foreign (non-Brazilian) student in Israel's Muay Thai group in Curitiba. Rumi has always been a student of the martial arts and has trained many years in Tae Kwan Do, Judo, Kungfu and Aikido until he met Israel and became a lifetime student of Muay Thai.
Rumi was the first "American" student under Israel Gomes tutelage to receive the much coveted Black Belt and certificate from the famous Chute Boxe Academy in Curitiba, Brasil.
Upon leaving the Chute Boxe Academy Rumi along with Israel Gomes, Anderson Silva and Rodrigo Vidal formed the Muay Thai Dream Team in early 2002/2003 and now once again Rumi and Israel have joined forces and embarked upon the next chapter of their journey as equal partners / co-owners of the American Killer Bees HQ in Melbourne Florida.
Rumi has trained with Anderson Silva, Rodrigo Vidal, Urutun, Assuerio Silva, ED Monstro, Fabiano Cabeção, Felipe Fortes, Luciano Contini, Marcos Felipe, Abagge brothers, Rodrigo Moreira Gomes.
Rumi attributes his love for Muay Thai to his teacher Israel Gomes and his teaching style and love for his students. Rumi is a highly experienced Black Belt instructor and co-owner of American Killer Bees HQ.
Rumi lives and works between Estero, FL and Chicago, IL. Rumi is married to Carla Michelato Contractor and has two daughters, Zarin and Sherezad. Rumi is also the Godfather to Valentina, Israel and Nikita's daughter. "