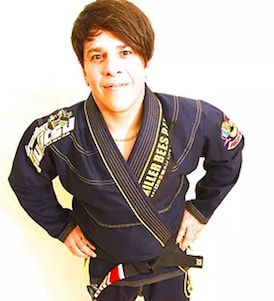 Israel Gomes
Israel Gomes is a Brazilian Mixed Martial Artists and World Class Martial Arts Instructor. Israel has trained several professional MMA stars, including the former UFC Middleweight Champion Anderson "the spider" Silva.
He is the former head instructor for the famous Chute Boxe Academy in Curitiba, Brazil. Upon leaving the Chute Boxe Academy he along with Anderson Silva and Rodrigo Vidal formed the Muay Thai Dream Team and co-founded the current Killer Bees MMA team.
Israel began training in Muay Thai at a young age and has since amassed an impressive professional Muay Thai record as well as a Professional MMA record. Israel is considered the Top Muay Thai and MMA coach for professional combat sports.
Israel holds a 5th degree black belt in Brazilian Jiu Jitsu. He earned his black belt from the legendary Carlos Lima (Carlson Gracie Jiu Jitsu) and was promoted to 3rd degree from Helio Soneca (Gracie Elite Jiu Jitsu). Israel is certified by the Honorable Confederation of Brazilian Jiu Jitsu and is licensed to give official rank and belt in Brazilian Jiu Jitsu and Muay Thai.
Israel Gomes is well known for his aggressive fighting style and his ability to execute his techniques with simplicity. Israel has helped several top MMA gyms around the world prepare fighters for competition. Israel was with the United States Government for several years teaching hand to hand combat to soldiers.
He is was voted the best coach and MMA coach in the state of Georgia in 2013 and 2015.
Israel owns gym( . Killer Bees HQ)with his partners Rumi Contractor and wife Nikita in Melbourne, Florida